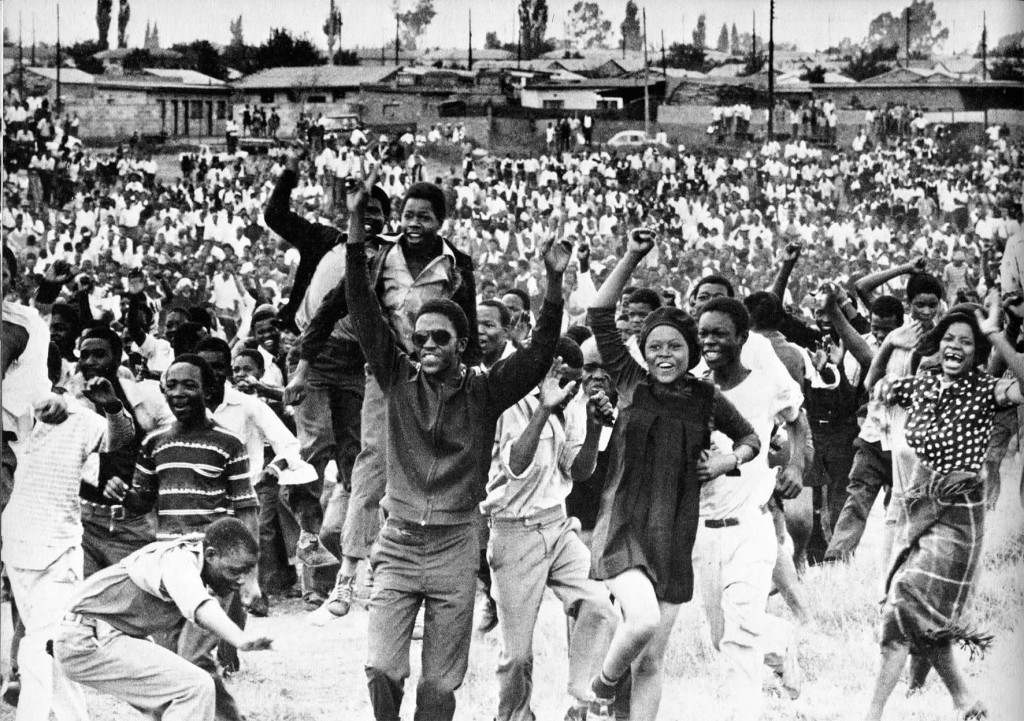 Cape Town is a city divided by race and class – it is a city of smallish settlements which are ranged around the edge of the Cape Peninsula. The Metropolitan population is approximately 4,5 million people and the largest settlement is at Khayelitsha where over I million people live in rudimentary temporary structures which are euphemistically called shacks or bungalows.
Housing Policy is directed towards producing single free standing houses of 44 square meters for families who earn below 230 Euros per month which is the poverty datum line in South Africa. The families are provided with a free house which they can sell after seven years of occupation.
Housing policy is a paternalistic top down approach which provides a minimum habitable space on a small piece of land repeated ad infinitum around the country with scant recognition for climatic, technological, cultural and landscape differences. Over 3 and a half million houses have been provided in this fashion since 1994. The result is disastrous – ever expanding city boundaries to accommodate a housing policy geared to providing sub standard suburban housing. The consequences are dire. People live further and further from their work place and are unable to afford increasingly expensive transportation costs, the environments in which they live are unsustainable as the income thresholds are not sufficient to support higher order facilities such as shopping etc. As a consequence many householders sell their homes to middle income families for much less than what they cost the state to build – these families then migrate back to the shack settlements from which they came because they are in most cases better located built at higher densities which can support higher order activities.
Also, as has been documented by many housing commentators such as Charles Abrahams and John Turner, no matter how well intentioned the state housing policy might be, it cannot match supply with demand – in the case of South Africa this has blown up into a considerable political difficulty for the state with continual civil unrest.
Outside of state provided housing most other houses are built by people for themselves using cheap recycled materials on land which they don't own and which have no services – it has been estimated that almost 80 per cent of all housing built in South Africa in any single year is built in this fashion. These settlements are usually badly located with regard to city infrastructure and because tenure is uncertain very little upgrading has occurred. The result is acres and acres of substandard self built housing which poises threats in terms of fire and health.
The future for housing in South Africa looks bleak. We have a moribund state which is unwilling to change a housing delivery system which we know will fail based on international experience. Local people who choose to take action into their own hands occupy land illegally and live under threat of eviction and are consequently unwilling to build anything better than the bare minimum. The result is an acute condition of temporariness which we have chosen to tackle as part of our contribution with Rainer Hehl.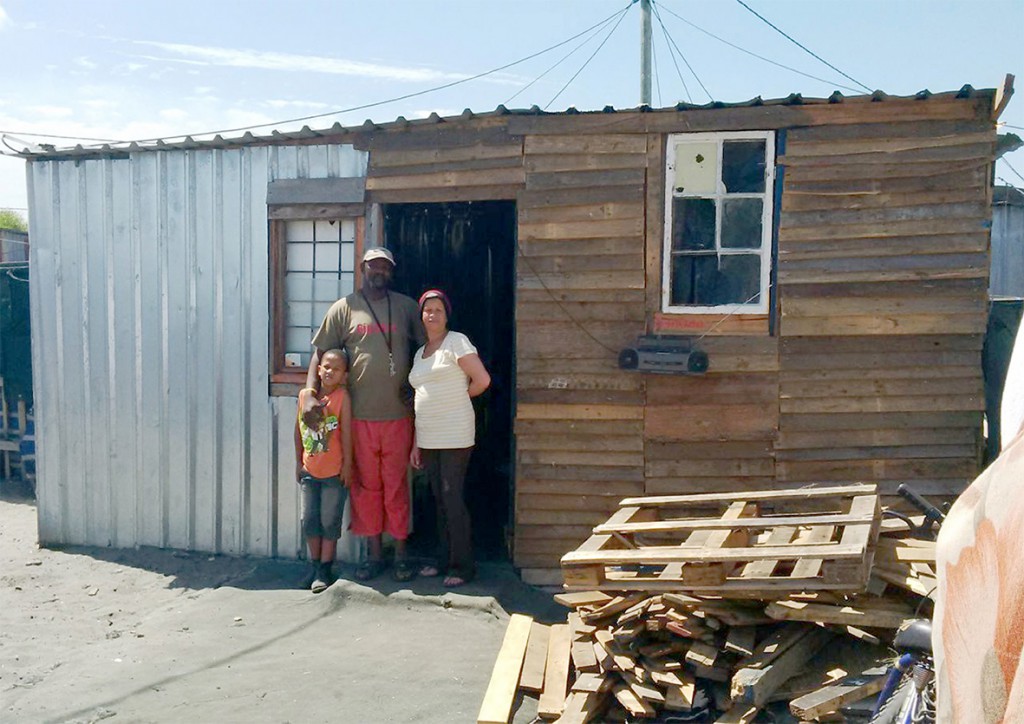 Clive's House
Clive is a member of Hands of Honor. He lives in a house that he built himself over a concentrated two week period. He re-built it after it had burned down in a fire that also demolished the houses of two neighbors. He was given an emergency kit by the city for victims of fire which comprises sheets of galvanized metal and rolls of black pvc sheeting. Clive constructed his house using these materials together with other scrap pieces that he was able to find. His resourcefulness was remarkable but the house itself is not adequate for human occupation – it is cold in winter and hot in summer – it is also not waterproof and has no services at all. Water is collected from a community water point and sanitation is provided with a portable toilet which is emptied on a regular basis by the city.
We had extensive discussions with Clive regarding his home and it was clear that he was deeply upset by the conditions under which he lived. He has a wife and young son – he also has two older daughters by another partner – both daughters want to live with him but he cannot accommodate them as he has no space. He is angry as his a proud man and feels that he should be able to take care of his children but he cannot and this upsets him.
It became clear to him and us that this condition of uncertainty and powerlessness was one shared by many other people in that community. It felt as if the city policy was geared towards convincing people that their tenure was insecure and that their shacks were temporary homes whilst they waited for a state provided home – the difficulty was that some had been waiting in this condition of uncertain temporariness for over 25 years. We held a discussion with Clive in which we could find some way to convert the temporariness to a sense of permanence, Clive understood immediately and gave unconditional support for this approach. We believe that Clive's situation will not change for many years – if ever – and feel that our input should be directed towards helping him to extend his home but to do it in a way that it can be converted from its current temporary state to a more permanent one. In this regard we are opposed to the current ideas being developed in South Africa of building temporary shacks two and three stories in height.
The table as an enabler for self empowerment
The idea of the table was borne out of the discussions that we had with both Clive and Paul Talliard. Essentially we sought to design an approach which could achieve a number of benefits. Firstly it would enable Clive to take charge of extending his house to accommodate his expanded family. Secondly to do this in a way that could transform the temporary nature of the structure into a more permanent system of housing and finally to develop the house vertically since the space on the ground is overcrowded.
The table achieves all of these objectives in a cost effective manner which also engages the imagination of the home owner and provides them with the kind of control over the home that is so important for self empowerment. The table structure is minimal – it requires very little work to construct – it allows Clive to decide how he wants to organize the spaces in his house and it is a permanent structure.
The construction of the table is well within the capacity of local people to build and the only capital cost involved will be the costs of materials – labor will be provided free by Hands of Honor as part of the project of up scaling.
Stair-cases, cladding systems etc can now be developed by Hands of Honor which can over time be converted into profitable businesses run by local entrepreneurs who can now engage in the upgrading of houses within their communities by taking charge of the housing processes themselves – we see Hands of Honor as a key driver in this process as the instigators of the process.
The Project
 The project was funded by a grant of 2000 Euros from Alfred Herrhausen Society in Berlin. Our original house owner was Clive but we encountered complications with the local community of whom Clive was a member. He apparently assaulted his wife and the local people felt strongly that he was, as a consequence, an unsuitable recipient for a table structure. Consequently we sought another family on another site.
We were given permission to construct a table on a large site owned by a group of families who were descended from slaves and were given their site by the original owners who was the Methodist church of South Africa.
Melissa, a young woman with two young children and married to a member of the church trust, was the recipient chosen by that community. She lives in a state of heightened insecurity as the area where she lives is riddled with criminals, gangs and drug addicts that will commit any crime to sustain their vice – the idea of living one floor above the ground appealed very strongly to her desire to be safe.
Hands of Honor provided the labor for construction and a local builder gave support by managing the process. The architects spent a considerable time designing a system of connections that would enable lateral expansion in all four directions. Also we had to design a system of support for the four columns that would ensure that the columns were correctly placed with regard to the shack position and were straight and true. To this end we developed a sliding system which was diagonally braced that could be adjusted to create a table top from 2,4×2,4 to 4,4×4,4 meters in area. This needed to be done to accommodate the different sizes of shacks. The structural system that was used would allow a maximum span of up to 4,4×4,4 meters.
The construction took two working days to complete – the period of construction time extended over six days as we had to allow the concrete to set in the foundations. The cost was 750 Euros which is affordable for low income families given the opportunities that the table offers. We propose setting up a social business enterprise with Hands of Honor and approaching a micro lender bank to investigate alternative means of funding for the project. This is still in progress.
Finally the response from people has been nothing less that phenomenal. Many families would like to have a similar structure erected over their shacks.
Future Outlook
The future is unlimited. We believe that once people understand the idea of making homes for themselves where they live that will be permanent homes. The Table idea can assist hugely as a trigger to initiate this idea. The permutations are unlimited. The table idea is premised on upward expansion which is the only way in with expansion can take place given the overcrowded nature of these settlements. The biggest challenge facing people is to build upward as this requires considerable skill and technical know-how – the table overcomes this problem easily and creates a stable new ground plane above the existing ground plane.
We believe that this system offers hope to shack dwellers in which they can put down roots and build more permanent house structures. It also allows for increased densification by vertical expansion and most importantly offers a relatively cost effective and safe way of expanding the house.
Finally is an open ended system which allows the home owner to take charge and to shape the spaces of the home to suit his/her own particular needs.
Text by Jo Noero
Image by Peter Magubane, Soweto 1976
The project is part of urbanXchanger iniatiated by the Alfred-Herrhausen Society